16 thoughtful gifts for her that cost under $100
Violets are blue, roses are red, flowers are lazy, try these things instead.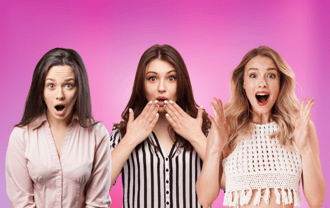 Strategically timed gift-giving is a great way to please the woman that you love. Whether it's a token of appreciation or a token of apology for your bad behaviour, women love gifts.
Though flowers have their place, they are a little lazy and obvious at times (particularly if you find yourself doing a lot of apologising).
DISCLAIMER: You don't need a reason to give her a gift, gentlemen. Sometimes, investing in a thoughtful reminder for her, that she's special to you is more than reason enough.
Here are 16 thoughtful gifts for her that cost under $100, ranked in order of price.
1. Make her a playlist on Spotify
Many Spotify listeners are guilty of shuffle-play-recycling the same 45 songs for months on end. Freshen up her sound and make her a playlist of songs.
If you're looking for some inspiration to create this playlist, try this out:
- 20 songs you know she loves
- 20 songs by artists/genres she likes that are a little more obscure than what she normally listens to
- 20 classic rock crowd favourites: I'm talking 'Rhiannon' by Fleetwood Mac, 'Tiny Dancer' by Elton John or 'My Girl' by The Temptations
- 20 90's crowd favourites: I'm talking 'As long as you love me' by the Backstreet Boys, 'Would I lie to you?' By Charles and Eddie or 'Emotions' by Mariah Carey.
- 20 songs that sit down the bottom of her 'liked songs' list on Spotify. She likely wouldn't have listened to some of these in ages.
100 songs in total.
Cost: Roughly 1 hour of your time
2. Give her an actual massage
You know what I mean by an actual massage. A lot of men who massage their partners end up putting in 4 minutes of lazy shoulder-rubbing, before promptly turning it into sex.
Show her you're serious this time by taking it seriously:
- Light a scented candle
- Make her wear an eye mask
- Look up 'massage music' on youtube and have it playing on a speaker in the background
- Get her to put her head in an aeroplane pillow, so she's comfortable lying on her stomach
- Know what you're doing. She's not expecting a world-class performance, but come on guys - it takes 10 minutes on YouTube to figure out at least a few techniques
- Set a timer for 45 minutes and don't stop massaging until it gets to 0. Maybe put your phone on silent so she doesn't know you're timing it though.
Cost: Roughly 1 hour of your time
3. Curate a list of favourites for her various online streaming platforms
The only task more first-world-problematic than discovering fresh music to stream on your $1500 iPhone, is finding fresh television shows to stream on your 55" Samsung LED TV.
All jokes aside, it can feel like you're scrolling forever sometimes when you're looking for something new to watch. With this in mind, supplying her a carefully researched list will of 'favourited' suggestions will leave her appreciative for months to come.
How do you do it?
- Consider some of her favourite television shows, and do some research online to find similar ones that she might like (just make sure that the shows you're looking at are available on a streaming service you or her are already subscribed to.)
- Cue up a bunch of trailers for the shows you've scoped out, and present them to her one by one.
- Take a note of what she likes and add them to the favourites list of the corresponding streaming services.
She will truly appreciate this the next time she is stuck for what to watch next.
Cost: Up to 2 hours of your time
4. Send her a message
Send her a message out of the blue, and make it very thoughtful.
Try to avoid saying lazy generic stuff like "you are so great and I'm lucky to have you".
Be more specific.
Something along the lines of: "I really appreciated it when you listened to me whine about work for 30 minutes the other night. It's comforting to know how supportive you are of me".
Cost: $25c (does anybody have a phone plan that isn't unlimited anymore?)
5. Hide her favourite chocolate
Buy her favourite chocolate bar, and hide it in the fridge or cupboard.
Wait for a night that she's craving chocolate, (but there's none in sight) and heroically retrieve it for her.
Cost: Between $2 and $5
6. Surprise order her Uber eats for lunch at work.
If her place of work is near a restaurant or cafe she likes, this one should be easy.
Try to reserve your surprise ordering of lunch at work for a rainy day, or a day when she's particularly busy and she'll barely have a chance to leave the office and grab lunch.
Cost: $15 - $50
7. Pay for her ride home
Next time she's out with friends, and just about to make the painful public transport trip home, tell her to sit tight because you've got her covered.
If you can't manage to coordinate arranging a trip home for her off your phone, tell her to order one herself, and transfer her the money the moment she arrives home.
Cost: $15 - $100 (dependent on trip length / time of evening)
8. Buy her a house plant
This one is probably the most universally appreciated gift among women. House plants.
Real or fake, make sure it's stylish, simple and easy to maintain.
Cost: $20 - $90
9. Order a delivery of wine to her and her friends
Next time she's at one of her girlfriend's places, arrange for a bottle of wine to be delivered to them.
Besides the fact she can enjoy the bottle with her friends, she will also take great pride in her friends seeing what a thoughtful man she has.
Cost: Between $40 - $90
10. Buy her some Activewear
Disclaimer: This one can be taken as offensive if she is particularly insecure about her body. This suggestion is recommended mainly for men whose partners exercise regularly / wear activewear regularly.
Buying her activewear doesn't require as much knowledge of her taste in clothing as you might think. It can be as simple as taking a look at some of what she already owns, identifying the size and brand - and finding similar styles and colours online.
If you don't live together and thus can't find the opportunity to trawl through her wardrobe, ask her sister, or a close friend. They should definitely be able to give you some inspiration on her style and taste.
Pieces to consider:
- Yoga pants
- Crop tops
- Running shoes
Cost: Between $40 - $100
11. Arrange a hike and a prize
Scope out somewhere unique to take her on a hike. Somewhere the two of you have never been before. You can't go wrong by selecting an option with a walking track along a Bay, or by the Sea, or near a Lake (ok, anywhere near water).
Make sure wherever it is you choose, that there is a reputable, informal place you can eat an indulgent meal afterwards (Burgers or Pizza are crowd favourites). This is where you'll be taking her after you've completed the walk.
How will it play out?
You'll complete the walk, and the two of you will enjoy your well-earned lunch. After lunch, you'll inevitably joke about how you "both just burnt heaps of calories, only to put them straight back on with lunch". But that's ok. She's going to forgive you for being so unfunny, based on the fact you made an effort and gave her a unique experience she's never had before.
Cost: $50 - $70
12. Buy her a Cameo recording
Check out the Cameo website for any celebrities she likes.
When you've made your choice, spend some time crafting a really thoughtful message for your celebrity wing-person to recite for you.
Cost: Between $50 - $80
13. Pay for her peace
Who doesn't appreciate the gift of relaxation?
Pay for her annual subscription to a meditation app. Meditation apps are incredibly effective for better sleep and better mental peace.
They are often overlooked based on their hefty price tag against other apps on the app store. Remove the financial burden and buy it for her.
Cost: Between $50 - $90
14. Pay for her and a friend to get their nails done together
This one should be pretty easy to set up. Tell one of her best friends that you'd like to pay for the two of them to get their nails done together. All you ask in exchange is that she initiates the visit to the nail salon with your partner. Get her to tell you the price, and send it to her in advance.
When the job's complete and her friend picks up the bill - courtesy of you, she will be delighted. Talk about a charming gesture.
Cost: $70 - $90 (the average cost for each set of nails is around $35 - $40 each).
15. Make her choose her own gift - but make it exciting
Take her into one of her favourite cosmetic stores. If you have no idea - try Mecca or Sephora. If you want to play it particularly safe - make it Chemist Warehouse. That place has something for everyone.
Before you enter the store with her, pull her aside and tell her that she can have whatever she wants in the store, up to the value of $100. Then tell her she has 5 minutes to decide. Start your timer and watch her go!
Cost: $100 (any less won't be very exciting to spend 5 minutes deciding on)
16. Initiate an Instagram photo.
If you're like most men, you aren't a big fan of taking part in an Instagram photo. Whether you're behind the lens or smiling generically in front of it, you probably detest the entire premise.
Now your partner on the other hand probably loves them. Fully conscious of the fact you don't, she still perseveres in ensuring that you're still involved each time you take one.
With all this in mind, give her a thrill the next time the two of you are out and about together and tell her you'd like to take a picture with her.
This may seem like a small gesture, but for a lot of your partners, their evenings will be made. The idea of you willingly taking a picture with her, without kicking and screaming will be a welcomed change.
Cost: Your dignity
If you plan on executing a bunch of these ideas, please try and space them out a bit.
There's definitely such thing as too much of a good thing and frequent gifts can have diminishing returns.
Be good, men.